Heyhey beauties! Today I have a summer checklist post! Since it's summer 24/7 here in Malaysia and I'm totally bored of it, I decided to join in the fun and write a blog post on a few of my "summer" essentials!
1) Moisturizer (with spf please c: )
This is my Neutrogena Moisture SPF 15 Moisturizer which was featured in my
April Favourites
post! Its important to moisturize in the summer time (well, all year round actually). The added SPF will help protect your skin from the harmful sun rays. How ironic, we want to tan under the sun, yet protect our skin from it?
2) BB Cream/Tinted Moisturizer
For the summer time, we'll be sweating and getting oily.. a lot. So you wanna be sure that you use something that's going to stay on, yet feel really lightweight on your skin. Most of us don't like wearing too much makeup for the summer time, so BB Creams & Tinted Moisturizers are great choices! One of my personal favourite BB Cream is the Garnier one. And my favourite Tinted Moisturizer is the You Rebel Lite by Benefit.
3) Primer
As I said, we'll be getting real oily so primer is definitely a must to keep your makeup looking fresh all day! Both face & eye primer is a necessity for summer! Enough said.
5) Waterproof Makeup!
Waterproof makeup is an essential whether or not you want to go into the water. Sweat will also smudge makeup. To prevent that, you want to make sure you use waterproof everything! Mascara, Eyeliner, Lipstick, etc.
6) Bright Makeup!
Summer is the only time we can go crazy on the makeup looks without looking like a clown. Colors are so fun to wear and they really pop on the face. Coral and tangerine lips, neon nails & pastel makeup are so in this season! Summer is a great time to get all your fun palettes out that you would never wear on a daily basis. But now you can!
7) Self-Tanner!
Just for the glow! & it's way cheaper.
8) WAX!!!!
Please ladies. Wax before showing up in a bikini. In public.
9) Bikinis
Hey look, it's Gillian Zinser (I love her on 90210!) ANYWAY.. Bikinis are a must! Like, hello? :p
10) Bikini Cover Ups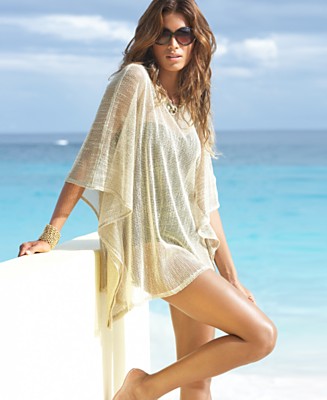 These are just really nice for hanging at the beach without going into the water.
There's nothing much to say about these. But they are definitely the things that I find really important for summer! I hope you guys like this! Thanks for reading! 🙂